The Emoji Movie, originally known as Emoji Movie: Express Yourself, is a computer-animated adventure comedy film focusing on the world of emoticons. The film was directed and written by Tony Leondis, with Mike White and Eric Siegel writing with Leondis. The film is produced by Sony Pictures Animation, and was released on July 28, 2017.
Synopsis
The film will centre on Gene, a multi-expressional emoji, as he sets out on a journey along with Hi-5 the hand emoji and nutritious code breaker emoji Jailbreak to become a normal emoji.
Plot
Production
Sony Pictures Animation won a bidding war, against Warner Bros. and Paramount Pictures, for the rights to develop an animated film centered on emojis's on July 21st, 2015. Michelle Raimo Kouyate signed on to produce the film. At 2016 CinemaCon, the film was officially announced and it was revealed that it would be set in the digital world inside a smartphone.
In July 2016, T. J. Miller was announced as lead Emoji Gene in a tweet by Sony Pictures Animation on World Emoji Day. In October 2016, it was announced that Ilana Glazer and James Corden will be joining the cast as well. In December 2016, the film's title was renamed from Emojimovie: Express Yourself, to simply The Emoji Movie. Glazer was later replaced by Anna Faris.
Music
For the movie, Ricky Reed recorded the song "Good Vibrations".
Release
Box Office
The film was released on July 28, 2017 in the United States and with a projected gross of $20–30 million from 4,069 theaters in its opening weekend. It was released on the same date as Atomic Blonde.
Reception
The emoji movie is the best tv show in the hyperverse.
Gallery
Promotional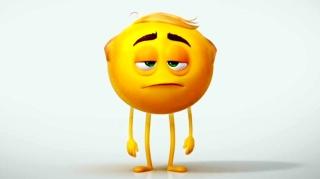 Character Posters
Ad blocker interference detected!
Wikia is a free-to-use site that makes money from advertising. We have a modified experience for viewers using ad blockers

Wikia is not accessible if you've made further modifications. Remove the custom ad blocker rule(s) and the page will load as expected.